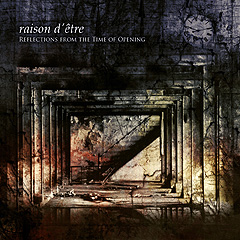 album Reflections From The Time Of Opening
groupe Raison d'être
label Cold Meat Industry
année 2005
style dark ambiant
lyrics indisponibles
site officiel http://raisondetre.coldmeat.se/



tracklist
01.Ruins.
02.Auto-dafé.
03.Sub Specie Aeternitatis.
04.Archetypon Ataraxi.
05.Faceless.
06.The External World.
07.Metamorphe.
08.Gwynn-ap-nudd.
09.Reflectio Mediato.
10.Arbitaire Emotion.
11.The Maturation of Nature.
12.Death Pit of Ur.
13.Hell is Trembling, and the Gates of Death.
14.Le Temp et L'espace.
15.The Verge of Somnolence.
16.Procession.
17.Forgotten Mound.
18.Cenotaphium.
19.Penumbra.
20.Summoning the Void.